NEKO-NIN exHeart +PLUS Saiha – 18+ DLC
$ 0.00
SKU:

WLP03-DLC-Win
Categories: All Games, Game DLC, Japanese, Neko-nin exHeart Series, StayInsideSale2020, Uncensored, Windows
Tags: 18+ DLC, Digital, DLC, Free, Text Language: English, Text Language: Traditional Chinese, Uncensored, Voice: Japanese, Whirlpool, Windows OS
Description
This DLC restores the full adult content of the game for the Steam version. The Denpasoft version of the game has this content built-in.
** While NEKO-NIN exHeart is not required to play NEKO-NIN exHeart +PLUS Saiha, it is highly recommended to play it first. Nin! **
From developer Whirlpool comes the second mini-sequel to NEKO-NIN exHeart featuring the sub-character, Saiha!Saiha tells the protagonist, a runaway ninja has sneaked their way into town.
She doesn't know what their motives are, but it may be related to him.
Although Yura and Tama are all over him to the point the runaway ninja won't be able to get to him,
Saiha insists on living together with him just in case…
Features:
Standalone mini-sequel to NEKO-NIN exHeart focusing on Saiha
Full Japanese voice acting (except for the main character)
Character designs by Takano Yuki
Scenario by Yuu Oumiya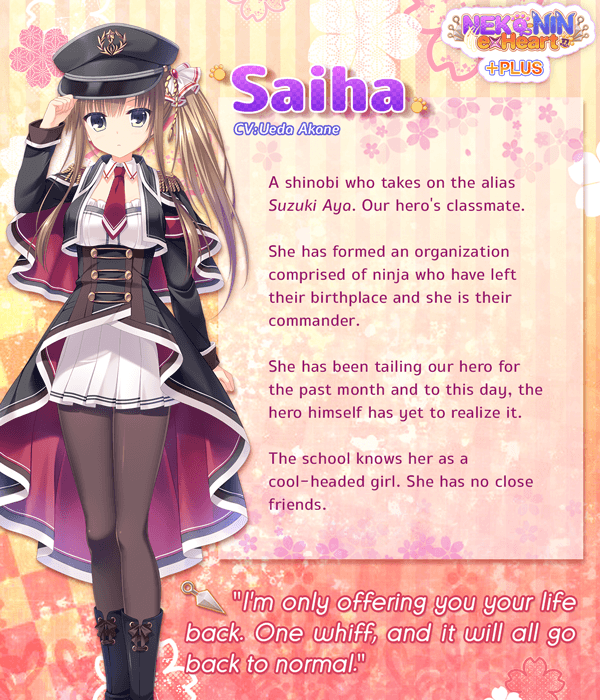 Only logged in customers who have purchased this product may leave a review.