Anime Expo 2023 Event Information
Published: June 30, 2023
It's been several years since Denpasoft has been at Anime Expo but the wait is now over as we have made our return! With the advent of the Adult Only section in the Exhibit Hall at Anime Expo, we decided it was time for us to get back on the con scene. Check out some of the goods we'll have for sale as well as other information on our appearance at Anime Expo 2023.
Anime Expo
July 1 – 4, 2023
Los Angeles, CA
https://www.anime-expo.org/
Booth Information
Location: 4425
This year we're located towards the exit of the Adult Only section of the Exhibit Hall over in South Hall. The area outside of the Exhibit Hall can get very congested in the morning before opening so be sure to exercise caution when you enter the Exhibit Hall. Also expect some delays to get in to the Adult Only section and be sure to bring identification to show that you are an adult. Once you're inside, don't forget to stop by our booth before you exit and head back in to the rest of the Exhibit Hall.
Back by popular demand, we have a limited restock of NEKOPARA dakimakura covers available sale. In addition, we also have some new dakimakura covers in our lineup from Mahou Arms and the Super Naughty Maid series! If you miss out on buying them at Anime Expo, they will still be available for preorder on our website and will ship at a later date after the event.
In addition, we've restocked a number of doujinshi from a variety of popular artists. The Pure Slut Miko Senpai doujinshi is an original series filled with steamy sex and in full color by prolific circle, KAROMIX. A definite recommendation for anyone that enjoys quality vanilla content. The first volume is also available digitally on our web store. Purchase that and any of our other English doujinshi releases during our Denpasoft Summer Sale! We also have physical doujinshi from circles Pannomimi and Wakubi in limited quantities so don't hesitate to pick them up from us at Anime Expo. Please Note: Physical doujinshi sold at our booth are Japanese originals and are not in English.
Finally, we've also reduced the price on a number of our physical releases. Don't miss out on the discounts and add these wonderful games to your eroge collection today!
New for this year at Anime Expo is a stamp rally in collaboration with our friends at JASTUSA and Hendane! Purchase any item at each of these booths and receive a stamp specific to each vendor. Collect all 3 stamps and redeem them for a full color poster featuring the mascot characters of Denpasoft, JASTUSA, Hendane! You can pick up a stamp rally flyer at either the Denpasoft, JASTUSA, or Hendane! booths and it doesn't matter which booth you start out with so long as you collect a stamp from each booth.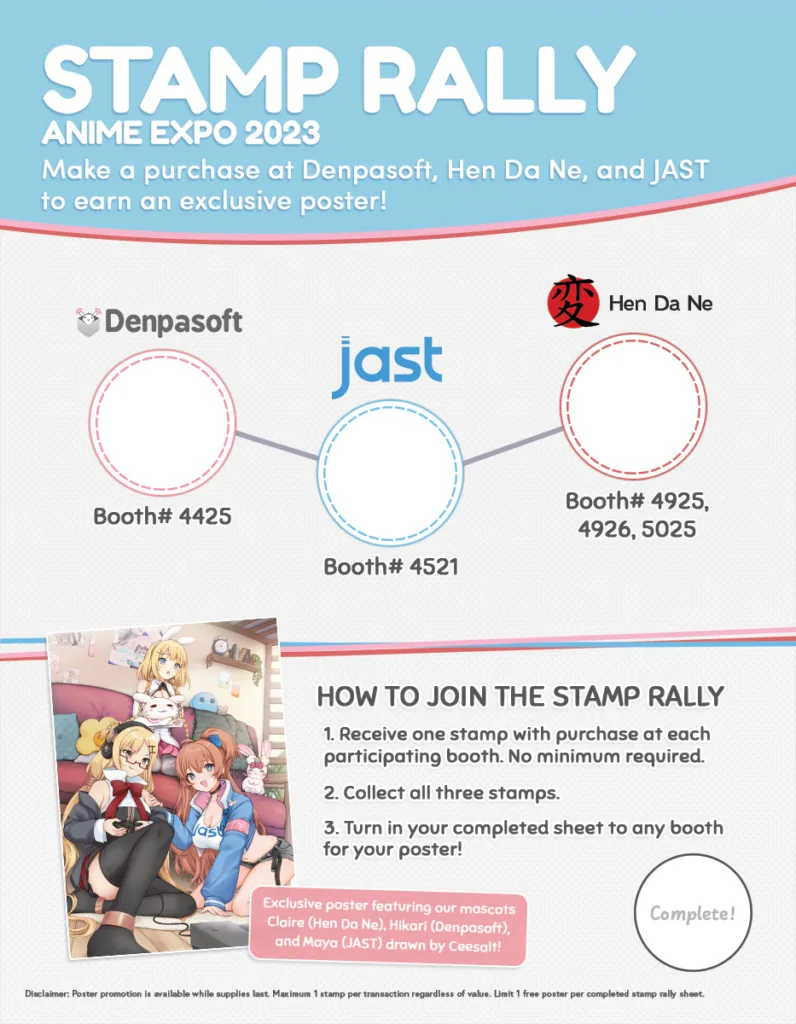 Panel Schedule
Denpasoft: Erecting A Market & The Rise Of Adult Gaming 18+
Monday, July 3rd, 9:00 PM in 402AB (Concourse, 2F)
It's been several years since Denpasoft was last at Anime Expo and we're glad to be back! This panel will go over a number of updates to our titles as well as information on new releases. There will be a Q&A session (time permitting) and perhaps a giveaway or two so don't forget to stop on by!