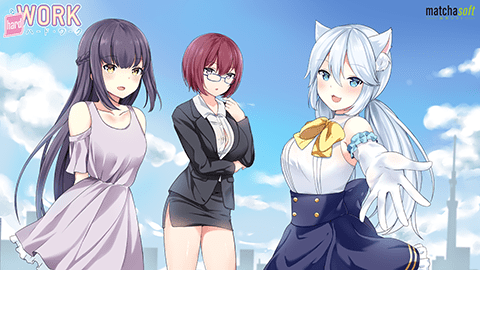 We've had the opportunity to sit down with Matchasoft, the developers of Hard Work (available now on Steam & Denpasoft!), to ask some questions! Well, let's not delay and get to those questions!
First up we're talking to Mondo, the founder, scenario writer, and composer for Hard Work/Matchasoft.
Tell me about why you started your company Matchasoft.
After seeing some of my friends having a lot of fun working on their own independent projects, I got a strong inspiration to branch out and do the same. I had always had some ideas for plots and characters in my head, so the prospect of being able to bring them to life exactly as I had envisioned really sat well with me. Kätzchen and I have always had fairly similar tastes, so it felt natural to create a brand we could work under for future projects, rather than to simply make Hard Work a one-and-done project.
What was it like working on Hard Work?
It was tough, and certainly stressful at times, but I had a lot of fun with it. Our core team (Kätzchen, myself, and our editor Syon) handled most of the work with only a few external contractors, so most of our work communication was fairly tight and efficient. The only things that we would really discuss at length would be the execution of game elements or how to improve certain parts, since we were all fairly happy with the content itself from day one. I had initially thought that talking about the tiny details and directorial minutiae of a nukige with other people would be strange or uncomfortable, but after working on the project for so long, it became second nature. It wasn't until talking to some other friends later that I realized just how tame their conversations were compared to the typical Matchasoft fare.
Was it hard coming up with what type of fetishes you wanted to include in the game?
Not at all! Our initial idea for Hard Work was basically the premise and the setting, along with the nebulous idea that we wanted to make something fun and interesting. Since romance per se wasn't a big part of the plot, we thought that it would be more exciting to get a wide variety of interests and fetishes into the game, though without going too far into any extremes. Some of the scenes wrote themselves content-wise based on the character (Scarlett and her dominatrix scene was a no-brainer), while others kind of spawned out of themes and elements of the background plot, as was the case with most of Katya's scenes. For some of the more esoteric fetishes, like in most of Celeste's scenes, I channeled some of my own personal tastes since I feel that they're fairly accessible and palatable even if they're (intentionally) a little on the strange side. In most cases, it was less an issue of running out of fetishes to cover, and more one of coming up with the perfect one for the situation.
What do you do to get into the writing or music making mood?
It depends on what I'm feeling at the time. In general, I try to put in a certain amount of hours per day on either writing or music even if I'm not in the most creative mood, but sometimes I'll be struck with inspiration or hit a stumbling block and stick with one or the other exclusively for a time. I've always found that the greatest benefit of working on two fairly distinct aspects of development is that when I get sick of one, I can just shift over to the other for a while and keep plugging away. In terms of process, for both writing and composing it's mostly a matter of sitting myself down at the keyboard (whichever type it may be that day) and forcing myself to get started. Once I have an idea forming, I can usually roll with the emotion or feel of whatever I'm working on and ride out the creative wave for a few hours or more, depending on how into it I get.
Is there anything you want to say to fans of Hard Work/Matchasoft?
Thank you so much for supporting us! We founded Matchasoft on the principle of making high quality content with no cut corners, and we're going to do our best to ensure that we maintain a standard of product quality that both developer and fan alike can be proud of. As we move forward into new developments, I hope that you'll stick along for the ride and that we can all have a good time of it together!
We also have some words from the founding member, artist, and character designer, Kätzchen.
How did you come up the character designs for Hard Work?
Since the setting was meant to be at an office and casual setting, I didn't have too much trouble with it. They're not much different from the original concept I had in my mind when we were talking about the main characters. The only exception is Katya who was originally nude (she was described to me as an exhibitionist) with just a jacket and open hair. I've wanted to give her a 'work outfit' and it ended up being used as the default.
Is there a specific character you enjoyed drawing the most for Hard work?
No one in particular comes to my mind. All of the scenes were fun to draw since it has a lot of variation!
Do you ever get artblock when working on a project? How do you get past it?
I'm used to drawing professionally, so it's already a habit for me to do every day. I sketch a lot when I feel creative and keep the drafts for lineart and coloring for times when I have a hard time coming up with ideas. If I don't have anything to work with and I can't come up with something on the spot I just keep sketching and experimenting until it looks decent to me. I take regular 'breaks' to draw something for myself in between work projects.
Is there anything you want to say to fans of Hard Work/Matchasoft?
Thanks so much for buying the first Matchasoft game. I understand it's a risk buying a game from a studio that has no previous titles released, so I really appreciate people trying it out. If there is enough demand we want to release DLC scenarios for President Hart and Rose as well. And of course, keep looking out for future releases if you enjoyed playing it!
Closing comments
Thank you for taking the time to read over our interview with Matchasoft! We hope that you all will support them in their current and future projects! Make sure to show them your support by picking up Hard Work on Denpasoft or Steam!  We have DRM free physical copies available that are also 10% off when you preorder today! Those physical copies also come with a bonus Denpasoft digital to start playing right away! And if you love the Hard Work OST you can pick up the Hard Work – Original Soundtrack on Steam for 10% off until September 28th! 
You can follow/support Mondo on: Soundcloud Twitter 
You can follow/support Kätzchen on: Pixiv Twitter Patreon
Want to see more from Denpasoft? Make sure to follow our Steam publisher page or follow us on Twitter!