Anime Expo 2022 Announcements!
Published: July 13, 2022
Anime Expo 2022 has come and gone and while we unfortunately did not have a booth in the Exhibit Hall, we did have our usual industry panel on Saturday. If you missed our panel or just want a recap of what was announced, we've got you covered.
There are also a number of announcements that didn't make it in to the panel which will also be included. Without further ado, let's get in to all our new announcements!
Chinatsu's Summer Vacation
Hiiragi's Special Lesson
Succubus Shelly 1
Succubus Shelly 2
Developer: Blue Arrow Garden
Release Date: Q4 2022
Mosaic Censorship: TBD
We're ecstatic to be working with developer, Blue Arrow Garden, to bring their fantastic animated titles to the West. Each title boasts gorgeous 3DCG animation in a variety of settings. Whether you prefer some summer time excitement with your little sister, a secret rendezvous with an underclassman or a cheeky succubus in over her head, there's something for everyone. Programming and QA work is in progress on these titles and each are slated for a Q4 2022 release.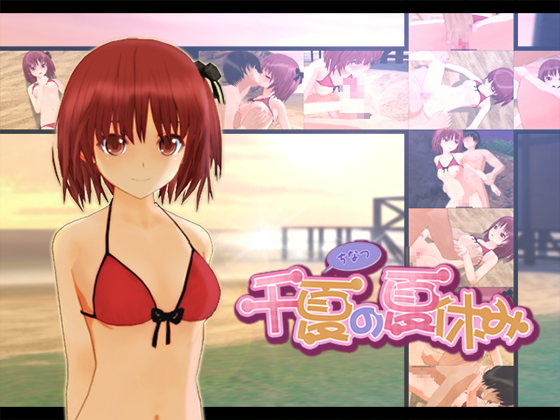 Chinatsu's Summer Vacation
A 3DCG animated h-game featuring over 80 cuts of animation.
Step into the shoes of Chinatsu's older brother, who is always staring at her with perverted eyes. One day, Chinatsu comes up with a great idea!
Chinatsu challenges you to a game of beach volleyball. The loser has to do whatever the winner wants for an entire day. She notices the bulge in your pants and knows that your body is being honest. When she wins, she demands a first kiss.
"So this is your…"
It's warm, and big. Ehehe.
"To get horny because of your little sister… Onii-chan, you sure are a perv…"
Hiiragi's Special Lesson
The second release by Blue Arrow Garden which features almost double the number of animation cuts as Chinatsu's Summer Vacation! You can also choose to have Hiiragi call you "Onii-chan" or "Senpai".
Some day, senpai and I will share the same feelings… and have sweet, sweet sex long into the night… ehehe.
But senpai won't react to my feelings at all, no matter how hard I try to appeal to him!
Using the information that Chinatsu has given her, Hiiragi tries to corner him in a classroom and make her move.
"Ah… Aah.. Ahhh… Mm… Haah… Haah… Mm…"
"Onii-chan… More… Give me more, haah. Mm, mm… Ahh!"
(Eh?! No way… Chinatsu… and Senpai… doing this and that in the classroom. There's no way… They're siblings…!)
A few days later, Hiiragi corners you in a classroom.
"So you do perverted things with Chinatsu, don't you?."
I show him the photo I took yesterday to shake him up, enough that he can't move.
"I love you too, senpai, that's why…"
"I want you to have sex with me, and then choose between me or Chinatsu."
Even though he tried to decline, his body's very honest♪
I take out senpai's warm and hot rod, and starting with my feet…
I'll use my whole body to make him feel good, better than Chinatsu can ever make him feel♪
"Senpai, make my feet sticky with all of your white stuff, okay♪"
Succubus Shelly 1
The 3rd release from Blue Arrow Garden which features over 60 minutes of animation and 3 times the amount of voice recording. A special feature also lets you listen to what Shelly is thinking as she's drowning in pleasure.
Shelly has found herself a tasty meal… you!
As a succubus, she has the ability to enter the dreams of human males and milk them dry. Or at least that's how it usually goes…
"No! Let go of my tail! Don't stick your dick inside me!"
With all the power drained from her body from having her tail grabbed, you have your way with her.
"No! No! You can't come inside of me!"
"If you do, it'll bind me to you! Stop! Don't do it!!"
You pay little heed to her words as you come inside Shelly and she becomes your sex slave… Thus begins your life with a succubus.
Succubus Shelly 2
2 years after the release of Succubus Shelly comes the sequel. Featuring over 2 hours of animation as well as 2 times the amount of voice recording as the previous release. This is for all the Shelly fans who wanted to see all the different sides of Shelly. While it's not required to have played Succubus Shelly first, if you do then you will enjoy Succubus Shelly 2 120% more!
You and Shelly are newlyweds and your honeymoon takes you overseas to an island resort. Shelly was hoping to entice you with a sexy swimsuit yet you insist on her wearing a school swimsuit instead.
"Oh darling, you are such a pervert."
Have fun at the resort playing beach volleyball, splitting watermelon and more! But when Shelly gets hungry, it's your cock that she wants to satisfy her appetite.
But when night falls, it's time for you, her master, to teach her a lesson or two for all the teasing she does. Thus begins your sexy newlywed life with a succubus!
For More Information:
https://twitter.com/arrowsail

My Ideal Life in Another World Vol. 8 and 9
Circle: 23.4do
Release Date: Q3 2022
Mosaic Censoring: No
Norun sex-filled life in another world continues in the 8th and 9th volumes of My Ideal Life in Another World by circle, 23.4do. Fans of this series will love the situations the girls find themselves in with Norun in volume 8 as well as the new girl that makes her first appearance in volume 9. Both volumes are currently in typesetting and will be releasing soon.
Our protagonist used to be a 40 year old male virgin until he masturbated too much and dies from a technobreak. He finds himself reincarnated in another world where men can only go into heat and procreate once per year yet he has a special ability known as the "Monarch's Gift" to go into heat whenever he pleases.
In volume 8, Norun continues to make sense of the world he finds himself in while having some sexy time with Chise and his 3rd wife, Lovemea who are now wearing sailor uniforms? Pure white panties or striped panties, how will Norun choose? Why choose when he can have them both!
In volume 9, Norun has begun to make sense of how magic works in this world and while having a magic detection spell activated, discovers a horny tiger princess masturbating in public. She uses a cognitive dissonance spell to hide her presence as she pleasures herself, not realizing that Norun is very eagerly watching her. Will this new girl become yet another wife in his expanding harem? What will he learn regarding the "Monarch's Gift"?
For More Information:
https://twitter.com/itiri
https://denpasoft.com/product-category/doujinshi-digital/?pwb-brand-filter=23-4do
NTR Mousou sareru Fujiki-san* (Working Title)
Developer: Kurenaibook
Release Date: TBD
Mosaic Censoring: Yes
From Kurenaibook, the developer of Glare1more comes their latest title for all the NTR fans out there. NTR Mousou sareru Fujiki-san features Live2D animation and Japanese voice acting for Fujiki. It's definitely a real treat for eroge fans that more and more developers are embracing Live2D, E-mote or other tools to create games with animation. Development is still in progress on this title so a release date has not been confirmed yet. More details will be forthcoming!
"Hey, do you like aquariums?"
In a secluded room of a coworking space, you meet a female student named Fujiki. As you work on your school assignments, you listen quietly as she talks to you about things in her daily life, all while hoping for some peace and quiet. There is also a dark side of you that imagines what it would be like to see Fujiki fall into despair. A change encounter Fujiki has with a middle-aged man in a bar leads her down the path of ruin and pleasure as her screams of ecstasy from the man's hard cock echo in the room.
Which path will you take in your interactions with Fujiki-san?
For More Information:
https://twitter.com/aki_masanari
Original Dakimakura Cover Project #1: Riko
Circle: Arctic char
Release Date: Q4 2022
Mosaic Censoring: No
And now for something a little different. Denpasoft has teamed up with Japanese illustrator Arctic char on our very first original dakimakura cover project! It's an honor to be working with the mysterious but prolific artist whose artwork can be seen on their Twitter account. We don't know much more about the artist except the fact that he is simply a mysterious illustrator. Fushigi mystery!
The Denpasoft Original Dakimakura Cover Project is our new merchandise line that features original characters drawn by the many talented illustrators we work with. Each edition will feature a dakimakura (body pillow) cover as well as a short comic to get to know the featured character. Stay tuned for more details on our exciting new venture!
So let's get to know Riko! This twintailed cutie is a cheerful girl that works part-time at a Japanese-style restaurant in Los Angeles. This restaurant has a little secret. If you become a member and accumulate stamps, the waitress will reward you with a special prize.
The contents of the reward are… a secret♥️
We'll leave you the reader with that small taste. Stay tuned for more details on this project!
For More Information:
https://twitter.com/Arctic_char_J
And that's it for our Anime Expo announcements! It's been a few years since we've last done an in-person panel and certainly it was great to get back in the swing of things. Were there any announcements that you were hype for? Perhaps surprised by some unexpected announcements? Do let us know!
.
..
…
……but wait, there's more!
As mentioned at the beginning of this news post, there are a number of announcements that did not make the cut for Anime Expo. Some of these are probably expected but enough commentary from us, let's get right to these announcements!
Raspberry Cube
Developer: madosoft
Release Date: TBD
Mosaic Censoring: Yes
From the developers of Wagamama High Spec comes the 4th project by madosoft! We're excited to be working with madosoft once again to bring this cute title to the West. Localization will begin shortly and at this time we do not have a release date just yet.
From this day on, I will change.
I will do good for others.
In essence, I'll aim to do one good deed a day.
Due to a certain incident in his past, Azuma Satoru's mantra is to do good for others. He has returned to the town of Kawae, where he used to live up until his parents divorced.
Here, he rescued Kaidou Mikoto, the daughter of a landlord who was being harassed by thugs.
He helped out Kanou Minato, the lone member of the gardening club who cultivated a field by herself.
After school, he helps out part-time with Yuzuki Yuu who works at an understaffed military hobby store.
It looks like Satoru's life around helping others is going well.
However, his meeting with Ruri, the class president doesn't turn out the same way. After crossing paths with her, she appears before him the next day. Perhaps she was here to thank him for doing something? He wondered as he gave chase…
Only to find himself waist deep in dirt. Ruri then takes a picture of the silly predicament he found himself in before running away.
"Did… I do something to make her hold a grudge against me?"
Years after returning to his hometown, Satoru's life is about to get a little chaotic…
Hamidashi Creative
Developer: madosoft
Release Date: TBD
Mosaic Censorship: Yes
We are bringing you not one but two madosoft announcements! Alongside Raspberry Cube, we will also be releasing their latest title, Hamidashi Creative to the West! Localization will begin shortly and at this time we do not have a release date just yet.
It's the end of June, and the summer seems to locked in place.
Tomohiro Izumi, recognized by himself and those around him as an introvert, is spending another quiet day in his little corner of his classroom… or so he thought.
"Congratulations! You've been selected as our next student council president!"
The student council president lottery, held on the spur of the moment by the academy.
Tomohiro manages to be the one randomly selected thanks to his ridiculous luck!
Now the spotlight is suddenly upon him, and as a result, rumors about him begin to circulate. With no way out, Tomohiro relies on his advisor to start gathering allies he can rely on.
But none of the candidates his advisor suggests, from his classmate Kano to his underclassman Asumi, and even his little sister Hiyori, are even coming to the campus!? Amidst all of this chaos, even the former president that no one could ever get ahold of, Shio, shows up…!
Is it fate, or is it a foregone conclusion?
The unheard of and unprecedented battles of the "Random Lottery Student Council President" are about to begin!
NEKOPARA After – La Vraie Familie
Developer: NEKO WORKs
Release Date: TBD
Mosaic Censorship: Yes
The latest chapter in the popular NEKOPARA franchise which shifts the focus to Minaduki Kashou's doting, younger sister, Shigure. This release will be made available as a free update to NEKOPARA Vol. 4. It is currently still in development so there is no release date information at this time.
Having recognized Minaduki Kashou's talents in running his patissiere, Beignet felt her role was over. So she closed La Soleil in France and entrusted Fraise, the catgirl she raised, to him.
Fraise feels a fondness towards Kashou but becomes bewildered in the face of his 6 catpanions. She turns to Shigure for advice but she too harbors a hidden love for him. Fraise feels that the relationship between siblings is the most important while Shigure feels the happiness of her catgirls is what is most important.
Motivated by their desire to make sure the other is able to fulfill their love for Kashou first, the battle between catgirl and girl begins!
HAPPY SAIN†SHEOL
Developer: 122px no Meido
Release Date: Q2 2023
Mosaic Censorship: TBD
We're excited to be working with indie developer, 122px no Meido on their first title, HAPPY SAIN†SHEOL! Featuring old school-style graphics and a colorful collection of characters, this title will definitely be of interest to users who enjoy visual novels with a bit of a darker feel to them. The game is currently in development with localization having already begun. Currently we are aiming for a Q2 2023 release.
This is a story about a group of very ordinary girls.
Two thousand years ago, the Pestis Disaster swept through the land, corrupting all living things and making it to difficult to live on the land. For those that still wish to live on this dead land, a temple was established. It was known as Saint Sheol of the Underworld.
With the help of a distant relative, I moved to the capital that I had longed to live in, and began work as a trainee priest at Saint Sheol.
Every day I endured pain and suffering in this unfamiliar land. On one particular day, when I was in truly dire straits, an angel appeared before me in my dreams. "Don't worry," she gently whispered. It was truly a vision that seemed impossible. I knew the face of that angel.
Before the looming disaster stood 6 girls. Within the deepest corner of the temple was fear, miracles, love… and lust.
Having touched the darkest darkness the world has seen, one must now face the dazzling light.
Thus I pose this question.
Whose wings did I see that day?
Nie no Hakoniwa
Developer: Chatte Noir
Release Date: TBD
Mosaic Censorship: Yes
For our final announcement, comes the first title by Chatte Noir, a sister brand of NEKO WORKs. Nie no Hakoniwa is a visual novel filled with drama and intrigue featuring story by scenario writer, Shiina (Baldr Sky "Zero", Baldr Sky "Zero 2") and character designs by artist, Kaguyuzu (Under One Wing)
A long time ago, an outsider appeared before the village of a long-suffering minority. In his possession was a mysterious "box" which was used by the oppressed to rise up and overthrow their oppressors.
Years later, that oppressed group formed seven noble houses and grew prosperous. However, House Shiki, which stood first among the Seven Noble Houses did not have a son to succeed the family. In order to have an heir, a young man from outside the village was adopted in to the family.
That young man's name is Yasaka Kuro.
He then meets Kiyoko, the eldest daughter of House Shiki. Two people who were born in to and lived completely lives, find themselves drawn to each other.
And on the day of their marriage- A nightmare is born.
And that's a wrap on all our announcements! Stay tuned for more details on each of these projects as we begin work on them. Have some thoughts on these announcements? Sound off on our Twitter account @Denpasoft_pr!